Take phone payments on a virtual terminal
Have your customers got you on speed dial? Accept payments over the phone with our handy virtual terminal. Taking phone payments is a breeze – all you need is an internet connection and a computer or tablet. Eligibility criteria apply.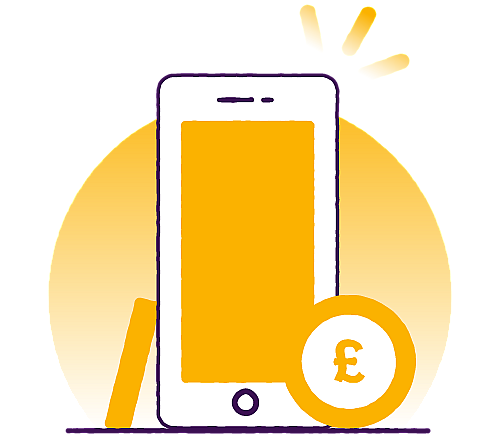 What is a virtual terminal?
A virtual terminal is similar to the card machine you might use in store, except you can use it remotely and you don't need any extra hardware. Just log into the secure page to turn your device into a virtual card machine and take phone payments, email payments or postal payments (MOTO payments) with added security and flexibility. It's great for your customers if they're not able to pay for your goods in-person, and it allows you to take phone payments or secure online payments by generating a payment link and sending it via email, SMS or social media message.

A virtual terminal essentially works in the same way as an in-store POS system,but online. You can use the Tyl virtual terminal on your chosen device – such as a laptop, tablet or desktop computer – to process a customer's order while you talk to them on the phone.
When you take a phone or email payment, you can either process the transaction by entering the customer's full card details on your virtual terminal, or if they're more comfortable, you can share a secure, customisable payment link with your customer so they can complete the transaction themselves.
For some businesses, processing payments on a virtual terminal may be a preferable alternative to 'card not present' transactions on a card machine, especially if you serve many customers by telephone or email.
Enter your customer's payment details into the virtual terminal quickly and easily
Pay by link – send your customer a link so they can pay you securely
Available online from any smartphone, laptop or tablet (as long as it's connected to the internet)
Taking virtual phone payments gives your customers another payment option that's simple and easy.
When your phone rings and a customer wants to buy your products or services, you'll understandably want to ensure you can process these payments safely. The virtual terminal enables you to take high volumes of phone payments through payment links, which can help you to reduce fraud by tracking who has made each payment. These are all protected though the card schemes compliant versions of EMV® 3-D Secure.
Plus, with a virtual terminal, being able to take payments remotely may give you peace of mind at a time where many businesses are looking to pandemic-proof their operations.
The benefits of phone payments
They're easy to set up – if your application's approved, your virtual terminal will be set up in one working day, and you can take phone payments within 48 hours
Your customers can tailor their order and get advice on what to buy, which gives you the chance to let your customer service shine and could lead to higher purchase values
Taking phone payments gives your customers a safe way to pay and a secure environment to collect card details, with real-time authorisation. This means you can manage declined cards and try to reduce the amount of customers who abandon their goods at checkout
All you need is an internet connection and a computer, smartphone or tablet to load up your virtual terminal
You could reach more customers than you did before
You can create multiple user accounts for your business to increase the number of payments you can take at once – meaning you can take payments from different locations, all at the same time
Taking payments is smoother, which means you'll free up more time to work on other areas of your business
You and your employees can take phone payments from wherever they are
You can use our fraud protection and security checks to make sure everything's secure
Why take phone payments with Tyl?
With our virtual terminal, it's easier than ever for your business to take phone payments. Your customers can call you to give their credit or debit card details, and you tap, tap, tap them into our secure virtual terminal, or send a handy payment link. And voilà – it's that easy. You're now accepting phone payments.
And with Tyl you've got plenty of options, from taking remote payments through our virtual terminal or payment gateway with our Online Payments package, to our range of card machines for face-to-face transactions.

FAQs about phone payments
How do I take a card payment over the phone?
It's easy to take phone payments.
You can either do it online, where we'll email you your login and you can enter your customer's card details on the payment screen. You could also take a phone order then email your customer the link to a secure payment page where they can fill in their payment details.
Or, if you need to take face-to-face payments as well as phone payments, our card machines can meet your needs. For example, you can do this through the Phone Sale app on a Clover card machine. To compare other terminals, visit our card machines page.
Fees and eligibility apply.
Find out more about how to take card payments over the phone.
How much does the virtual terminal cost?
The Tyl virtual terminal forms part of the £14.95 monthly package for online payments. This also enables you to accept payments through your website with our payment gateway, so you get two solutions in one monthly payment.
Fees and eligibility apply.

Are card phone payments secure?
Yes, if you comply with Payment Card Industry Data Security Standards, known as PCI DSS , then taking phone payments should be secure. Pay by link is great because it gives you the option to use the authentication methods used by the card schemes we support, which can help protect you against fraud. Your customers' cardholder data is hugely important to protect, especially as you're obliged to comply with GDPR standards.

What is GDPR compliance?
GDPR compliance refers to a set of EU data protection rules that were introduced in May 2018. GDPR stands for General Data Protection Regulation. The aim is to improve individuals' data privacy and rights. There are various ways your business can fulfil its GDPR responsibilities, including but not limited to: only collecting data for a limited purpose; keeping data accurate and up-to-date; and processing it securely.

What types of payment can I accept over the phone?
You can accept phone payments from all major debit and credit cards, including Visa, MasterCard, American Express and Discover® Global Network And if you use Pay by Link, Strong Customer Authentication (SCA) can help keep your business and your customers safe from fraud.

Is the virtual terminal available in different languages?
Yes, you can use it in eight different languages: English, Dutch, French, German, Italian, Portuguese, Serbian and Spanish. You can also choose which language you'd like for the transaction notifications you receive. Simply select the 'notification language' option in the 'customer details' section of each transaction.
How to take phone payments with Tyl
Getting set-up for phone payments with Tyl only takes a few simple steps.
Get a personalised quote

We'll give you a simple quote based on what your business needs, with a 12 month contract and no hidden fees

Start taking payments

If you're approved, you can start taking phone payments online within 48 hours


Get paid

And you'll get cash hitting your account the next business day – no more waiting ages for your money to clear

Watch your trading data come to life

See all your sales and settlements up close and personal, and watch your data come to life on the Tyl portal (which you get to use at no extra cost)



Sounds good?