Phone payments
Guess what? You can take payments over the phone too, with our handy virtual terminal. If you've got a phone and an internet connection, you're ready to start taking phone payments.
What do I get with phone payments?
With our phone payment solution, it's easier than ever for your business to take card payments over the phone. Your customers can call you to give you their credit or debit card details, and you tap, tap, tap them into our secure virtual terminal. And voilà – it's that easy, you're now accepting payments on a phone.
Your virtual terminal lives online, which means you can log into it from your computer, tablet or smartphone whenever you fancy it. So now your customers can pay by mobile, and you can take phone payments wherever you are.
MOTO payments – taking payments by mail order/telephone order
If we were to sum up a MOTO payment...
... we'd say it does what it says on the tin, really. 'MOTO' stands for Mail Order Telephone Order, which means you can accept payments by taking your customers credit or debit card details by mail or over the phone. Once you've got that all-important customer info, you enter it into your virtual terminal on the portal as a MOTO transaction. And that's how you take a MOTO payment.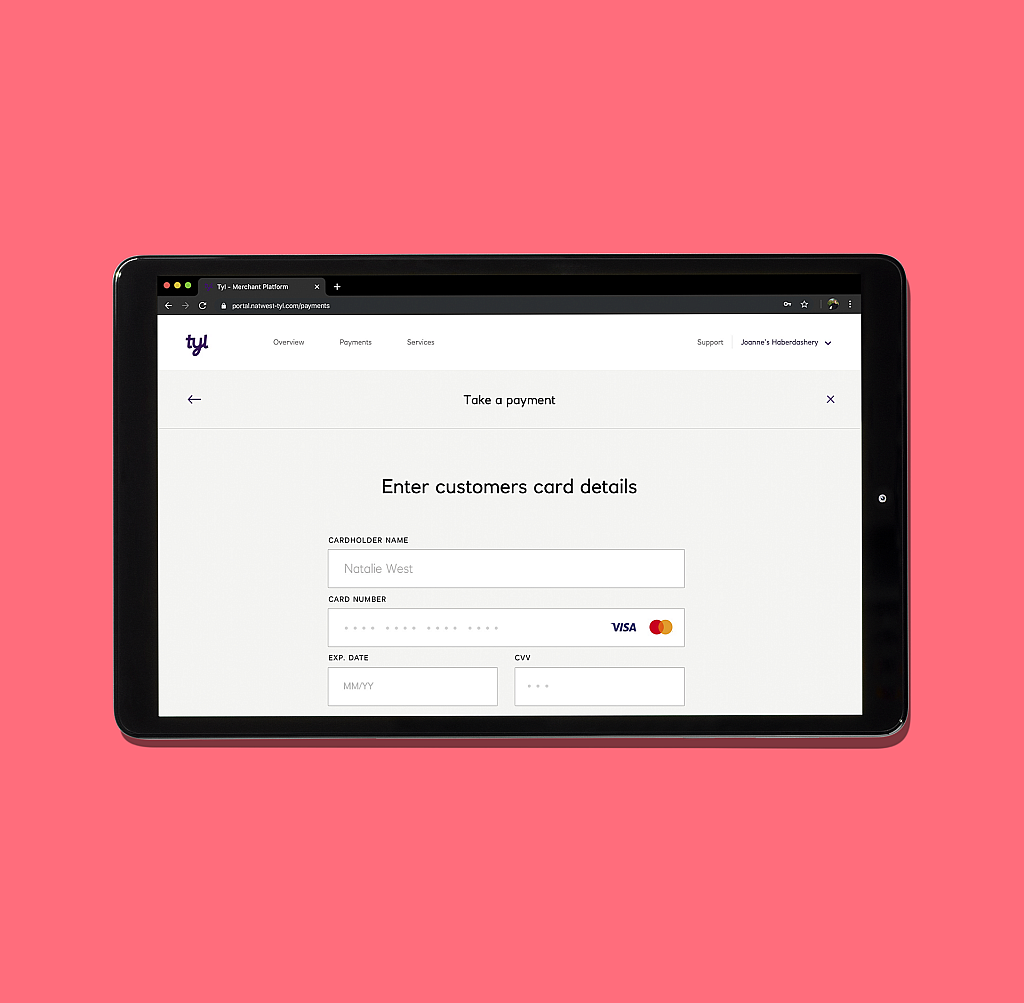 FAQs about phone payments
How do I take a card payment over the phone?
It's easy to take phone payments.
You can either do it online, where we'll email you the login details for your virtual terminal and you can enter your customer's card details on the payment screen. Or, if you've got a Clover card machine, you can use the Phone Sale app to take card payments over the phone.
You could also take an order over the phone and then email your customer the link to a secure payment page where they can fill in their payment details. Find out more about taking payments over the phone
What are the benefits of phone payments?
Phone payments are great because:
They're easy to set up – once your application's been approved, your virtual terminal will be set up in one working day – and online payments will be available within 48 hours
Your customers can tailor their order and get advice on what to buy, which gives you the chance to let your customer service shine and can lead to higher purchase values
You can accept payments over the phone from all major debit and credit cards, including Visa, MasterCard, American Express and Discover® Global Network. And if you use Pay by Link, you can use authentication services to keep your business and your customers safe from fraud
They give your customers a safe way to pay and give you a secure environment to collect card details, with real-time authorisation. This means you can manage declined cards and try to reduce the amount of customers who abandon their goods at checkout
All you need is an internet connection and a computer, smartphone or tablet to load up your virtual terminal
You can reach more customers than you did before
You can create multiple user accounts for your business to increase the number of payments you can take at once – meaning you can take payments from different locations, all at the same time
Taking payments is smoother, which means you'll free up more time to work on other areas of your business
Your employees can use your virtual terminal from wherever they are
You can use our fraud protection and security checks to make sure everything's secure
How to get started
Get a personalised quote

We'll give you an ultra simple quote based on what your business needs - with no hidden fees and a 12 month contract.

Start taking payments

Once you're approved, you can start taking payments online or over the phone within 48 hours.

Get paid

And you'll get cash hitting your account the next business day - no more waiting ages for your money to clear.

Watch your trading data come to life

See all your sales and settlements up close and personal, and watch your data come to life on the Tyl Portal (which you get to use at no extra cost).
Sound good?