Tyl Rewards
Reward your regulars. In a matter of minutes you can set up a reward programme from your portal and give your customers a reason to keep coming back.

How this works for your customers
Your customers simply download the app, create an account and link a payment card to the loyalty scheme.
Once they're all set, they earn points for every £1 spent with you or each individual visit they make, with you. These points are collected automatically and can be redeemed using the app against the rewards you've chosen.
You can learn more about how the app works for your customers at Tyl Rewards.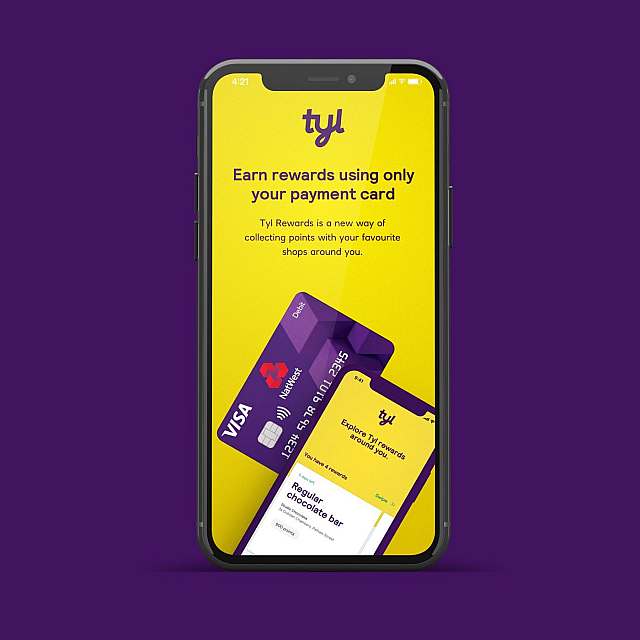 Simple to set up, value you can see
Easy to use
When you run a rewards programme through Tyl, you can manage everything through your portal. No paper cards. No stamps or scanning. Just complete flexibility on what you want to offer your customers.
Remain in control
Tyl Rewards is tailored to your needs. You set the bar however high you like, and how many points are needed for your customers to be eligible for rewards.
Success you can measure
Understand the true value of your rewards programme with real-time reports and insights on customer behaviour. Track everything in one place, keep an eye on performance and tweak as you go.
Build bonds
Show your customers how much you value their loyalty and keep them coming back for more. It's win win.
Do I need to be a Tyl by NatWest customer to use Rewards?
Yes, Tyl Rewards is only available to Tyl by NatWest customers. If you want to become a Tyl by NatWest customer contact us on 0345 901 0001. Fees and eligibility criteria apply.
How do I get Tyl Rewards?
Just log into the Tyl portal the usual way (head to tylbynatwest.com and click 'log in') and you'll see a link called 'Rewards' at the top. Click the link and it will take you through some simple steps to get started. Tyl Rewards is free to you as an existing Tyl by NatWest customer, so you can activate it as soon as you're ready.
How long does it take to set up?
Your Tyl Rewards loyalty scheme can be up and running in just a couple of minutes. In a few simple steps, you can set up your first reward, click 'activate scheme' and you'll be ready to go.
Will you charge me to use Tyl Rewards?
No – we won't charge you. We're here to help your business grow, so you can use Tyl Rewards at no extra cost. We know some of our competitors charge for similar services, but that's not our thing.
How do your customers earn points?
Your customers earn points every time they spend money on your products or services. They'll receive 10 points for every £1 they spend or 10 points for every visit with you and these will be added to their account in the mobile app.
How do customers redeem a reward with me?
You're in control of what rewards you offer your loyal customers. When a customer has earned enough points to be able redeem a reward, they'll be sent an email letting them know. They can then choose to redeem the reward at any time, as long as the reward is still available. When they click to activate the reward in the mobile app, they will be presented with a voucher that they will show to you to redeem the reward. Once the voucher is activated, the customer only has 15 minutes to collect the reward. You'll see the redemption show up in your 'Redemptions' view in your Tyl portal dashboard.