Shoppers build their perfect British high street
A bakery, coffee shop and bookshop are just a few of the ingredients needed for a perfect British high street, new research reveals.
A post office, butchers, pub, library, fishmonger and zero-waste shop are also on shoppers' wish list, according to a OnePoll survey of 2,000 people for Tyl by NatWest.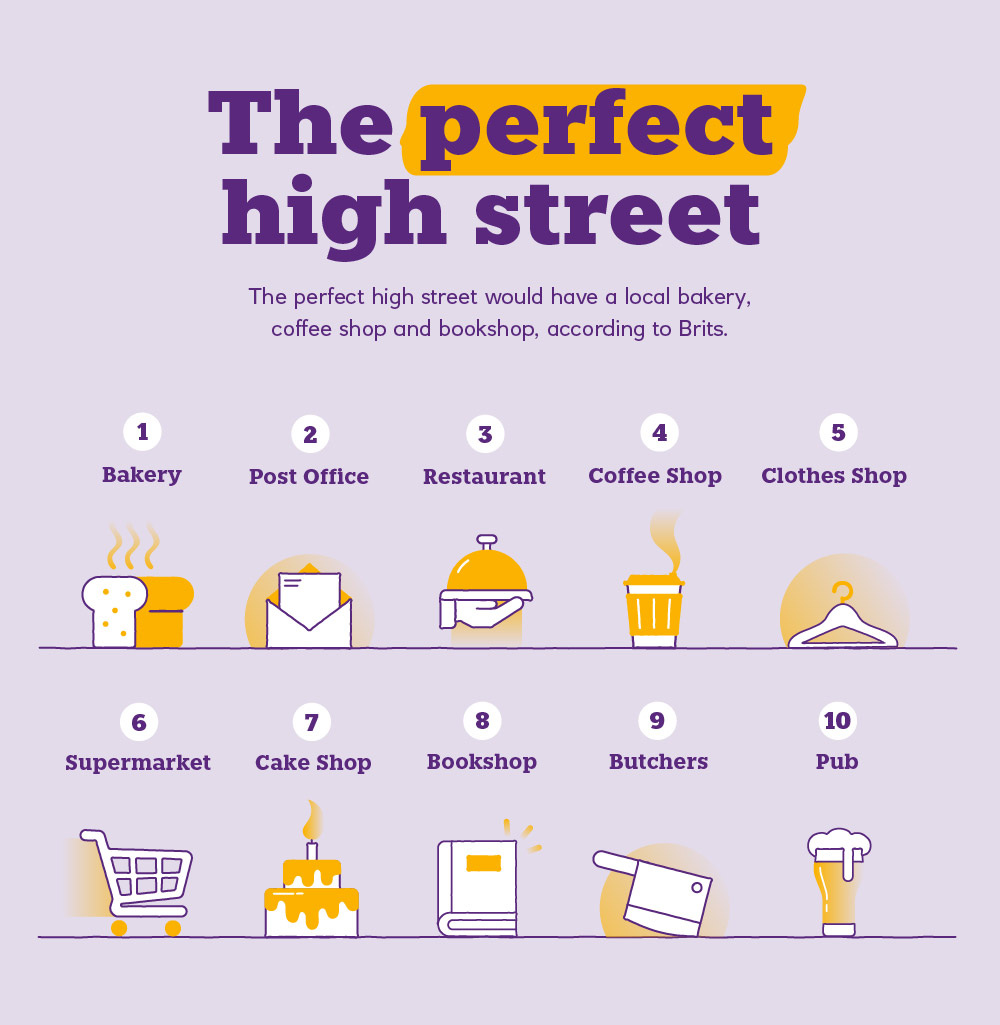 The full, 25-strong list includes everything from arts and crafts shops to hair salons:
Bakery
Post office
Restaurant
Coffee shop/cafe
Clothing shops
Supermarket
Cake shop
Bookshop
Local butchers
Pub
Card/gift shop
Takeaway
Library
Hair salon
Gift shops
Patisserie
Charity shops
Deli
Farm shop
Dentist/orthodontist
Vintage/second-hand shops
Cinema
Arts and crafts shop
Fishmonger
Zero-waste shop/refill store
Brits struggling to turn words into action
Despite their creative thinking, the day-to-day habits of many shoppers fail to match their clear enthusiasm for the high street.
On the one hand, around three quarters (74%) feel downhearted about their high street's decline and hope for a recovery (78%). And 41% are keen to shop more locally to support this comeback.
Yet only 17% do the bulk of their shopping with local or small companies. And close to half (43%) say they head to their local high street once each month – or even not at all.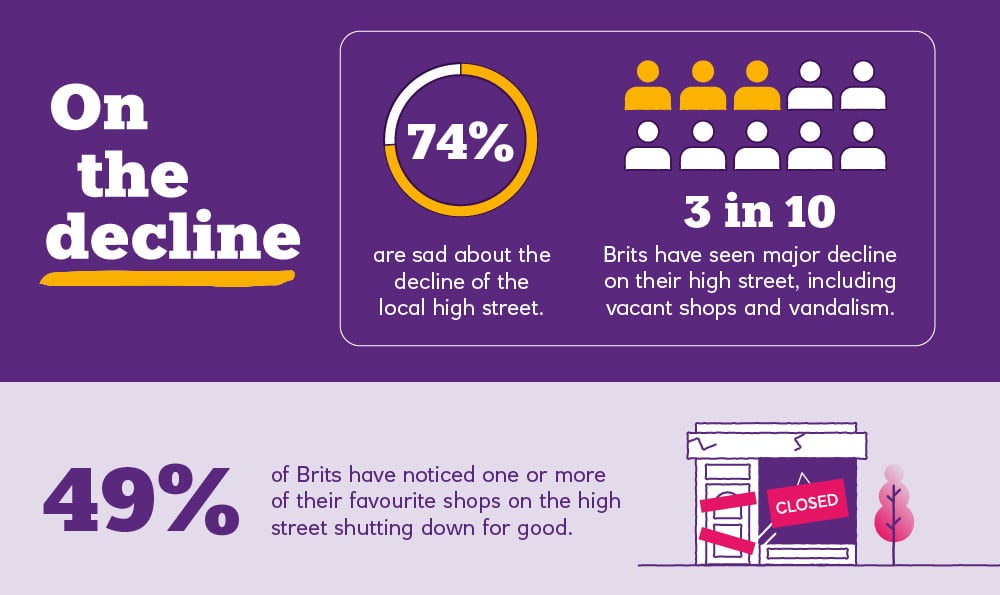 Tyl by NatWest CEO Mike Elliff believes it's now time for Brits to turn their positive thoughts into action.
He says: "This study on the perfect high street has revealed a romantic notion around the shops and businesses we still have right on our doorstep.
"We would encourage Brits to cut down on this reminiscing and instead venture out on to the high street and discover their next favourite local store. It may be just around the corner. Make the high street the bread and butter of your local community again."
He adds: "This research shows the popularity of the food and drink industry, taking the majority of the top 10 voted-for shops.
"Making up the backbone of a perfect high street, business owners have the opportunity to improve sales and really grab a slice of the high street action."
What's keeping shoppers away from high streets?
Our research flags a range of factors that may be keeping people away from the high street. The main ones include:
Cost of living squeeze. Nearly half (45%) of people have made cuts to their non-essential spending in recent months. More promisingly, rising living costs have encouraged 27% to support shops near where they live.
Vacant stores and vandalism. Almost a third (31%) of shoppers warn that their local high street has significantly deteriorated. As a result, 34% feel downbeat or sad when going there. The average high street now contains four discount stores.
Larger chains and supermarkets. More than half (55%) of survey respondents feel guilty about using bigger chains rather than local stores. A quarter (26%) say cost concerns prevent them from making the switch.
Rise of online shopping. Technological trends have had negative consequences for physical retailers, according to 37% of shoppers. Around a fifth (18%) also believe higher trading costs are taking their toll.
Effects of lockdowns. Covid-19 measures are flagged by 17% when explaining the high street's decline. But there's a silver lining, with 41% becoming more appreciative of local services after lockdowns.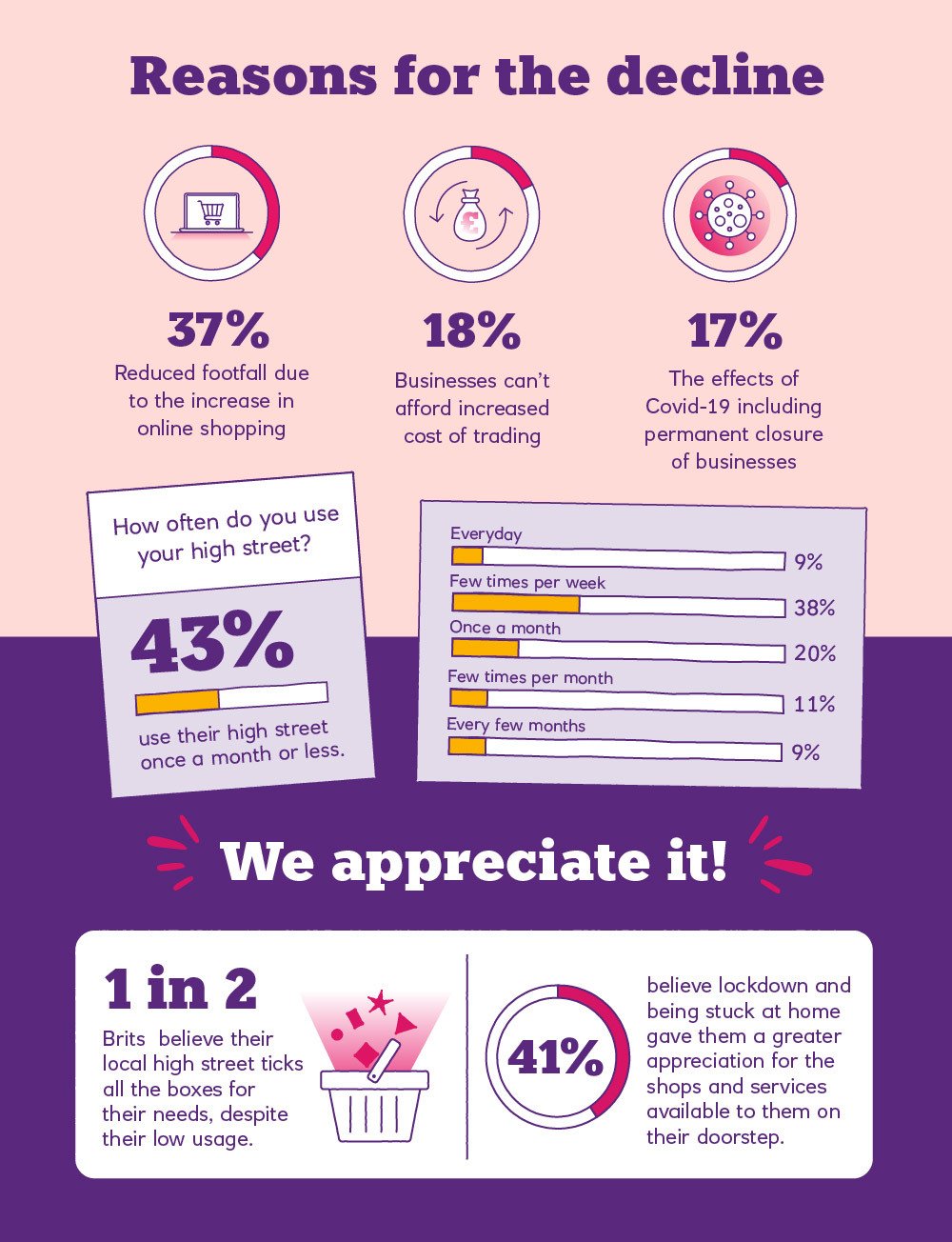 How can the high street adapt and thrive?
Many high street stores are feeling the strain against a tough economic backdrop. In fact, 49% of the shoppers we polled have seen at least one of their favourite businesses close.
But it's not all doom and gloom, with plenty of fresh opportunities for those willing to adapt and think creatively.
Close to half (49%) of shoppers believe that their local high street currently matches their needs. And 58% suggest rewards or loyalty programmes would keep them coming back for more.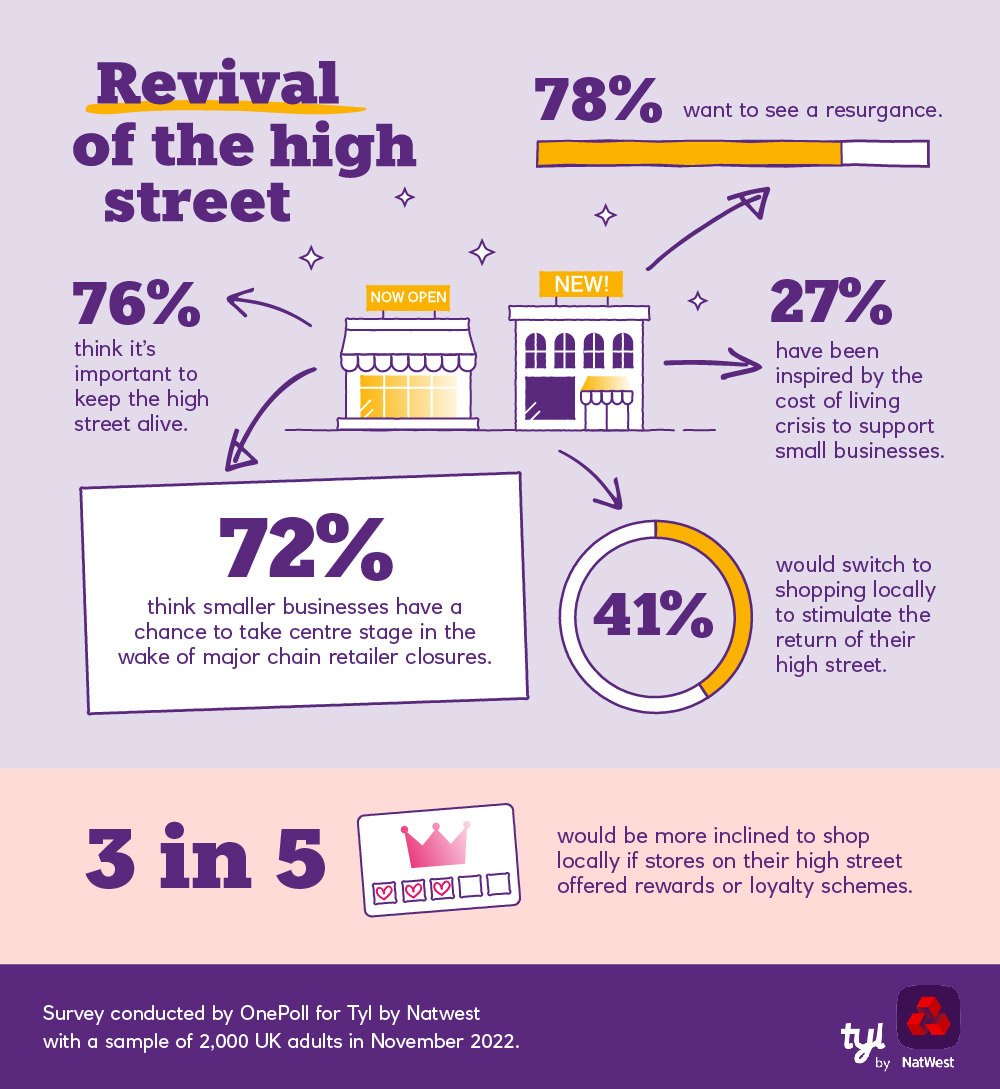 Mike Elliff says the time has come to get behind the great British high street: "There are still many fantastic high streets to be found in Britain, but there are also many factors eroding our use of them on a regular basis. We know these challenges can amplify the existing issues for business owners when trying to build a loyal customer base.
"We are trying to support SMEs with their financial and operational performance to improve customer experience and help build loyalty among their customers, through our Tyl portal and offerings.
"Having great local businesses on our doorstep is something Brits really appreciate, and it would be a shame to see the high street continue its decline in the wake of the online shopping boom and the effects of the pandemic.
"With the cost of trading and an impending recession, it's important that we support our local shops as much as possible."
Tyl by NatWest offers a choice of payment solutions for businesses large and small. Take your company to the next level with our wide range of card machines.