Take card payments with just your phone
Say hello to the latest innovation in card payments with NatWest Tap to Pay. Accept all types of in-person, contactless payments on your smartphone or Android tablet. No card machines or extra hardware needed. It's easy, secure and private.
No monthly hire or PCI fees for Tap to Pay. Transaction fees apply. Users may be charged for data usage by their network operator. Available on Android OS 10 or later (base OS 8.1+) with Google Services and NFC. Subject to Tyl eligibility criteria and terms and conditions.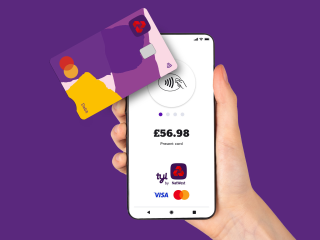 Contactless payments on tap
Taking care of your worries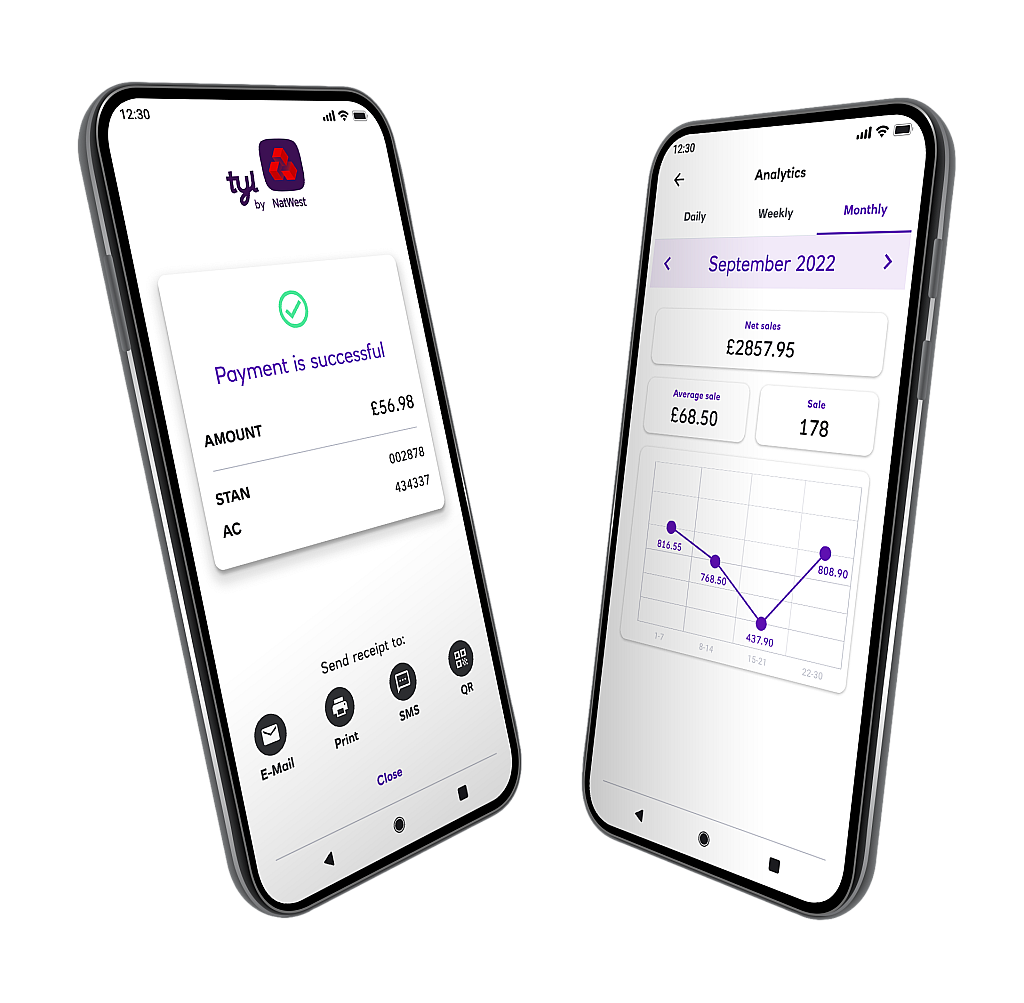 No card machine to rent or buy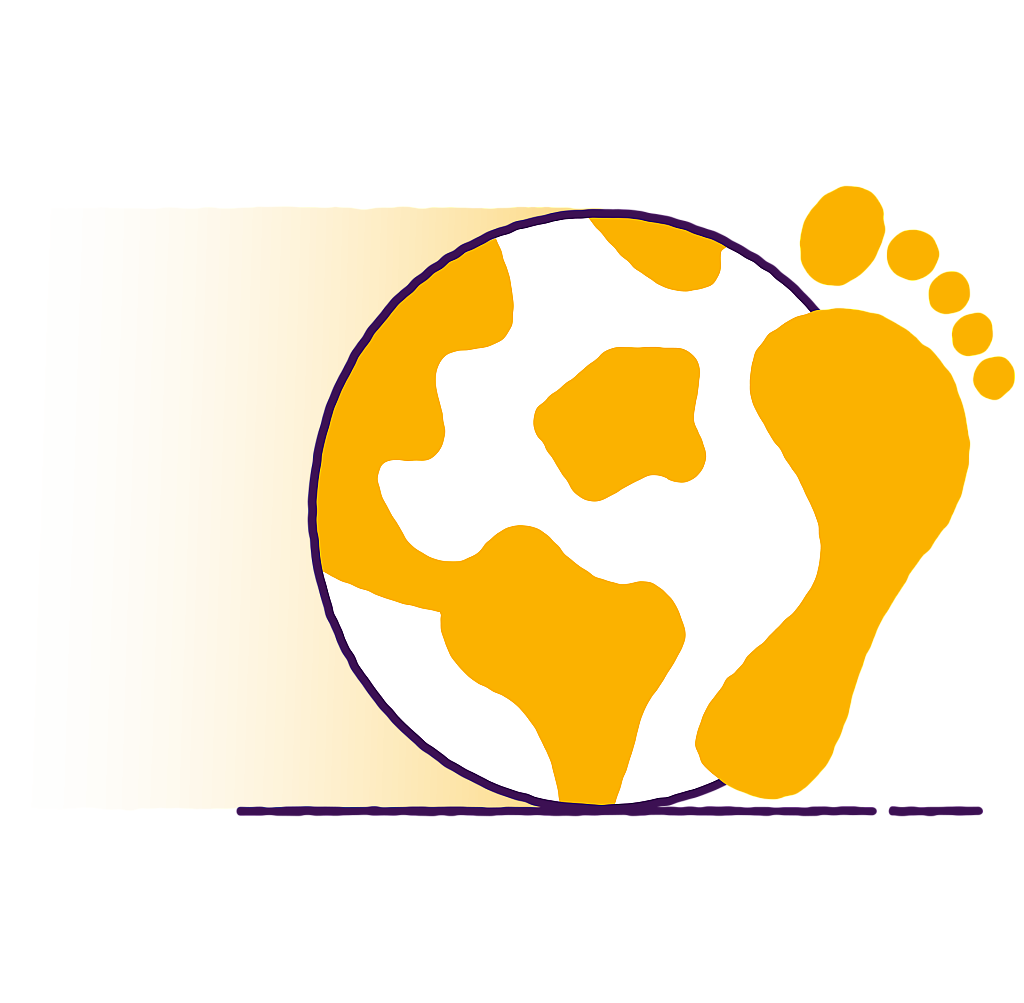 Why NatWest Tap to Pay on Android?
Get the app for free
No rental costs or hidden charges, just a transaction fee (other fees may apply).
Make sales wherever you go
As long as your smartphone or tablet can connect to data, you can be taking contactless payments.
Looking to reduce costs?
8/10 customers could save on transaction fees when switching to Tyl*.
*Savings based on customers looking to switch from various providers to Tyl between Jan and June 2023. Your existing provider may charge an exit fee. Average savings not inclusive of introductory offers or any exit fees you may have been charged. Additional fees may apply for data usage or app downloads. Tyl eligibility criteria, terms, conditions and fees apply.
Get started with Tap to Pay on Android
New to Tyl by NatWest?
To use NatWest Tap to Pay on Android, you'll need to join Tyl by NatWest. If you haven't already chatted to our team about joining, simply fill in the form give us a call on 0345 901 0001, or 18001 0345 901 001 for Relay UK and we'll handle the rest.
Once your Tyl account is approved, we'll send you your NatWest Tap to Pay login details and a link to download the app. Easy.
Already a Tyl customer?
Add NatWest Tap to Pay alongside your existing card machine(s). Simply give us a call on 0345 901 0001 or 18001 0345 901 001 for Relay UK and have your Merchant ID number to hand.


Once we apply these changes to your account, we'll send you your NatWest Tap to Pay login details and a link to download the app. Easy.
Tap to Pay on Android FAQs
What is NatWest Tap to Pay on Android?
NatWest Tap to Pay on Android allows merchants to accept card payments directly on your NFC enabled phone or devices without the need for any additional software, it uses a revolutionary contactless technology.

Find out all you need to know about NatWest Tap to Pay in our handy user guide.
What are the requirements for merchants to use Tap to Pay on Android?
You can use any Android phone or tablet running operating system (OS) 10 or higher, with a base OS of at least 8.1 (released 2017/18). You'll also need NFC (Near Field Connectivity) capability. Details of OS and NFC can be found in your device's settings.
What types of contactless payment methods can a merchant accept with Tap to Pay on Android?
Your customers can pay using Mastercard and Visa, including digital wallets such as Apple Pay or Google Pay.
Tyl by NatWest currently accepts Mastercard, Visa and Discover® Global Network. Acceptance of American Express is expected in winter 2024.
Is there a fee for using Tap to Pay on Android?
The NatWest Tap to Pay app is currently free to download and use (standard Tyl fees, including transaction fees, apply).
Is Tap to Pay safe?
Yes. Security is very important at Tyl. Here are some ways we protect you and your business:
Encryption
Every time a Tap to Pay payment is made, the encryption changes, making it extremely difficult for a hacker to take advantage. Even if they manage to decipher a code, it'll be too late as it's only valid for one transaction.
Tokenisation
When a contactless payment is made, an algorithm generates a unique random value, which replaces your customer's primary account number. The value, also called a token, passes safely through the internet, without exposing the customer's credit card details.
Two-factor authentication
Apple Pay and many other mobile payment methods ask you to set up two-factor authentication to verify each transaction with a Face ID, PIN, or fingerprint. So, even if your phone is lost or stolen, there's no way someone else can use it for payment.
What if the Tap to Pay payment requests a PIN number?
The need to enter a PIN code can be triggered if:
the payment exceeds the contactless limit (currently £100 in the UK)
the card issuer (such as their bank) requires additional security from the cardholder
NatWest Tap to Pay and Tyl support PIN entry in several ways:
If your customer pays with a card that supports online PIN, a PIN entry screen will appear on your phone, where the customer can enter their code.
If your customer is paying with a card thatmust be inserted into a reader, ask your customer if they have another card or a mobile wallet (Apple Pay, Google Wallet or Samsung Pay) to make the payment.
If you have another Tyl card reader, you can use this to complete the payment instead.