The countertop card machine - Ingenico Desk 3500
The countertop card machine that plugs in and stays put. This one does the basics, but does them well - and accepts all payment methods from one place. And, if you get started today we'll waive the Ingenico Desk 3500 terminal hire fees for 3 months.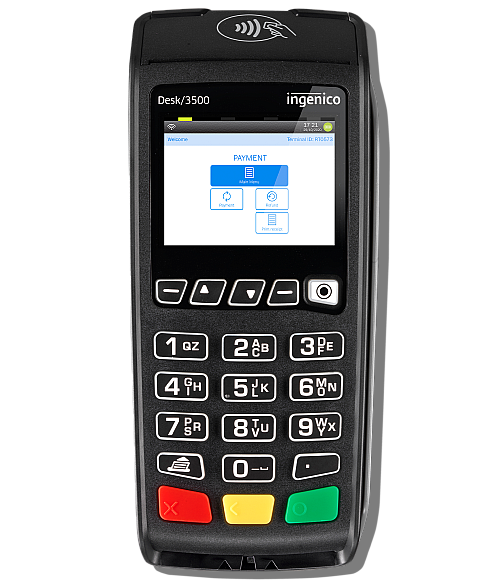 What do I get with the Ingenico Desk?
If you need a countertop card machine that takes payments from one place, and that's pretty much it – you'll love the Ingenico Desk. As long as you're plugged in via Ethernet, you'll be ready to go.
This countertop terminal also helps keep your business safe, meeting top security requirements with one of the most secure operating systems you can get. Plus, it's eco-designed, helping to minimise your environmental footprint.
*This is your card machine fee, and other charges apply as well. We'll tell you about these as part of your quote.
Wondering what'll be in the box once your Ingenico card machine is in your hands?
What you'll get:
Ingenico Desk 3500 countertop payment terminal (of course)
Your quick setup guide – so you know exactly what to do to get started
AC power adapter - to get you connected up to the plug, making sure your card machine has the right voltage
UK power cable - to connect you up to the mains
Two rolls of receipt paper – for printing those all-important customer receipts. One for now, one for later
Ethernet cable – to get you online
Decals – to stick in your window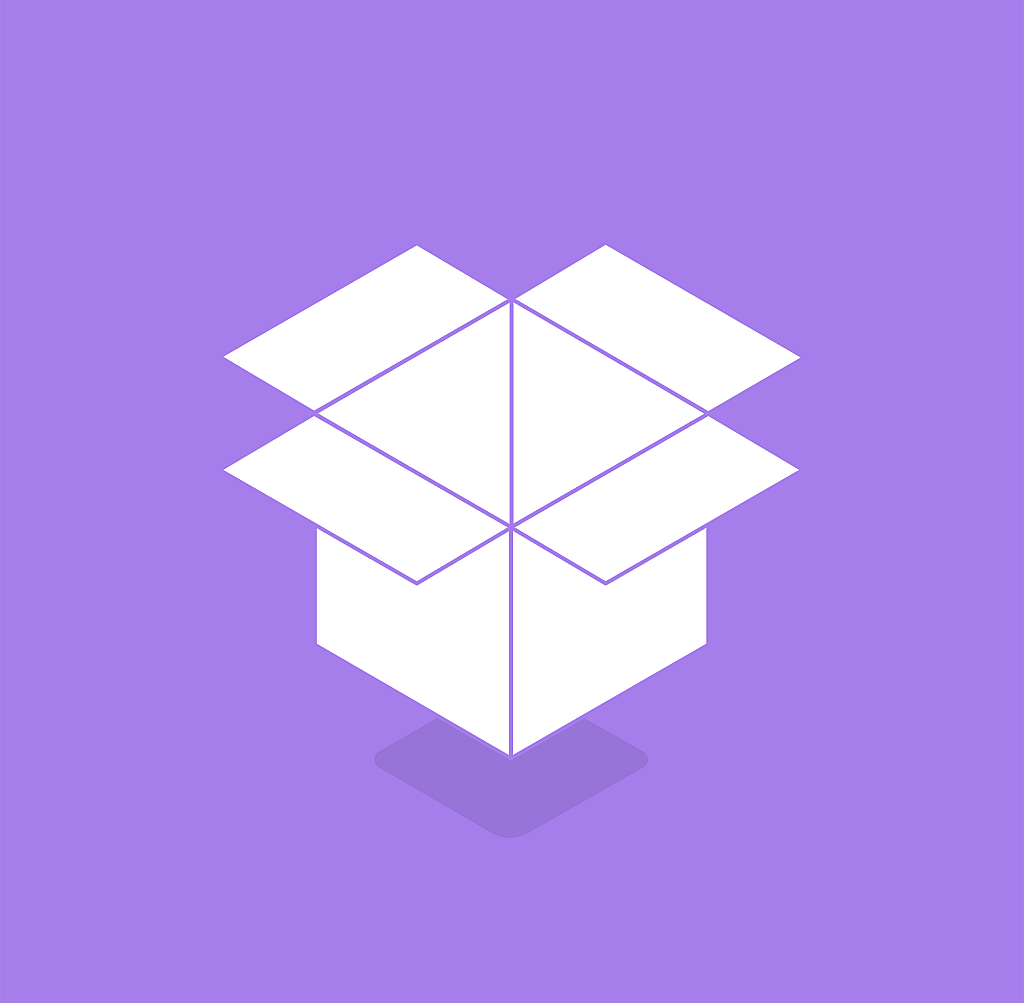 How to get started
Get a personalised quote

We'll give you an ultra simple quote based on what your business needs - with no hidden fees and a 12 month contract.

Get your card machine

Once you've been approved, your card machine will be winging its way to you asap. We'll aim to have it with you in 48 hours.

Start taking payments

And you'll get cash hitting your account the next business day - no more waiting ages for your money to clear.

Watch your trading data come to life

See all your sales and settlements up close and personal, and watch your data come to life on the Tyl Portal (which you get to use at no extra cost).
Sound good?
FAQs about our countertop card machine
What's a countertop card machine?
If you just need to be able to take payments from one location - a countertop card machine could be the right one for you. Once it's connected up via an Ethernet cable, this Ingenico card machine stays put and you can take payments from one place - so if you're usually based at a countertop, this countertop terminal would be ideal. You can accept all major credit and debit cards, as well as contactless, Apple Pay and Google Pay.
How much do countertop card machines cost?
We're waiving card machine hire fees for the rest of 2020 to make things a little bit easier for businesses trying to trade through the pandemic. That means you won't need to pay any card machine hire fees for your Ingenico Desk 3500 until January 2021 - you'll only be paying for Safepay and online payments (if you use this).
How does a countertop card machine work?
It's pretty straightforward, really. The Ingenico card machine connects up via Ethernet cable, and when your customer inserts their card into the machine or uses the contactless feature, the countertop terminal reads their card data from their credit or debit card chip. Your countertop card machine then transfers your customer's data to our acquiring partner to process, and after the payment's been approved, the funds will hit your business bank account the next working day.
Not sure if the countertop card machine is right for you?
Clover Flex
The multi-tasker. An all-in one POS system built to take payments on the move while managing your business.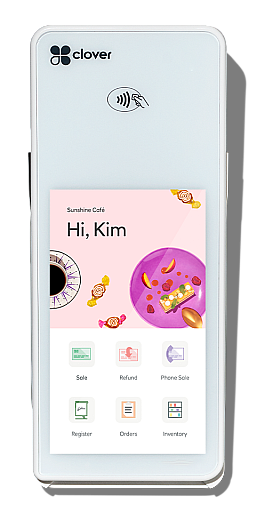 Portable
The portable card machine that lets you take payments on the move, but keeps things fuss-free.