Britain's small businesses have long been the crown jewels of communities across the country. But in the challenging economic climate we find ourselves in today, competition for customers is fierce. This means that businesses need to go above and beyond to maintain a healthy customer base when consumer purse strings are as tight as ever.
In today's climate, consumers are notoriously price-sensitive, a characteristic that plays into the hands of larger retail chains. So, it's never been more important for smaller businesses to play to their strengths – through touches that go above and beyond normal service so they can deliver a more unique customer experience.
A survey conducted Tyl by NatWest and OnePoll of 1,500 UK adults who shop at small businesses has revealed some key consumer trends and the small touches your business can put in place to go the extra mile.
The pricing picture
Three-quarters of buyers who shop at both small businesses and larger retailers, both online and in-person, admit it's the cost efficiencies that draw them to retail giants. But interestingly, 38% attribute their loyalty to larger stores due to limited access to smaller shops in their local area. As previous research has shown almost three-quarters (74 %) of Brits feel sad about the decline if their local high street.
Price is a sticking point for many consumers, particularly given the current economic climate, and 44% of shoppers cite the cost-of-living crisis as the primary factor influencing their decision to tighten their purse strings over the next 12 months.
However, the lower prices offered by larger chains do often come at a cost, as more than two-thirds (68%) of respondents confess to struggling to locate an employee to help in bigger shops. Smaller businesses can easily gain the upper hand here, offering a more personal customer experience that can transform a purely transactional interaction into something more enjoyable.
Local businesses at the heart of the community
Looking beyond consumer budget constraints, many shoppers do place other considerations at the top of their list when it comes to spending, and the customer experience is at the heart of this.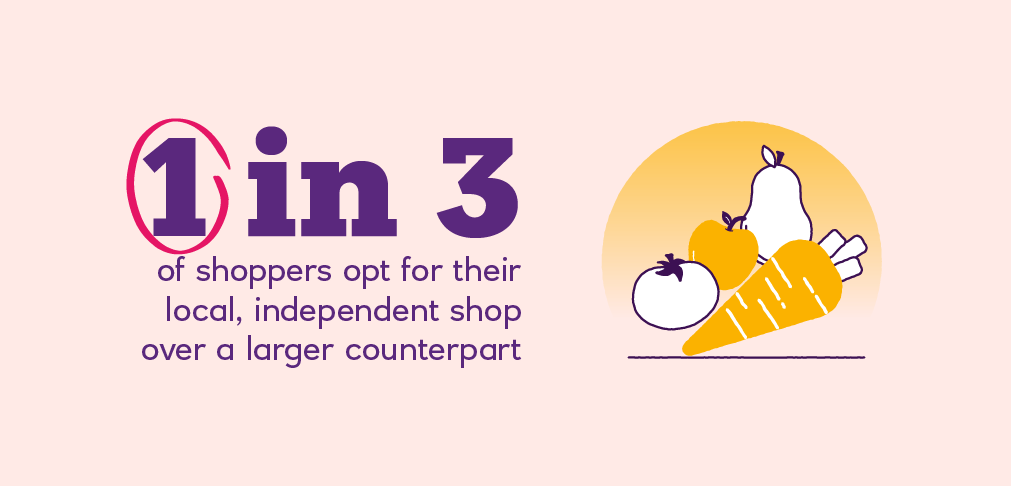 Locally, almost half (49%) shop with community in mind, while 48% really want to support their small business owners.
Over a third of respondents (34%) opt for local businesses over their larger counterparts, be it online or in-store. And despite potential higher costs, a quarter (26%) of shoppers think the economic climate is an opportunity to champion smaller, independent suppliers.
The ability to go above and beyond for shoppers by putting in place small, yet effective, touches can heavily influence consumer spending behavior, particularly for smaller retailers. This can start with something as minor as ensuring every customer is met with a warm welcome, to giving away free samples.
Is the in-store experience the be all and end all?
E-commerce has become a huge part of the consumer experience, with 75% of respondents who prefer to shop online doing so for convenience. Although some consumers prefer to shop this way; it isn't true for everyone.
Reviews wield significant influence for a business, with over a quarter (30%) of shoppers scrutinising testimonials before shopping at a small business. Respondents who prefer the in-store experience also noted enjoying the chance to try before they buy (71%), whilst 59% were eager to carry their goods home immediately.
Smaller businesses do possess a range of simple but effective ways to give their customer experience a needed boost.
Here are ten top tips your business can put in place to stay ahead of the curve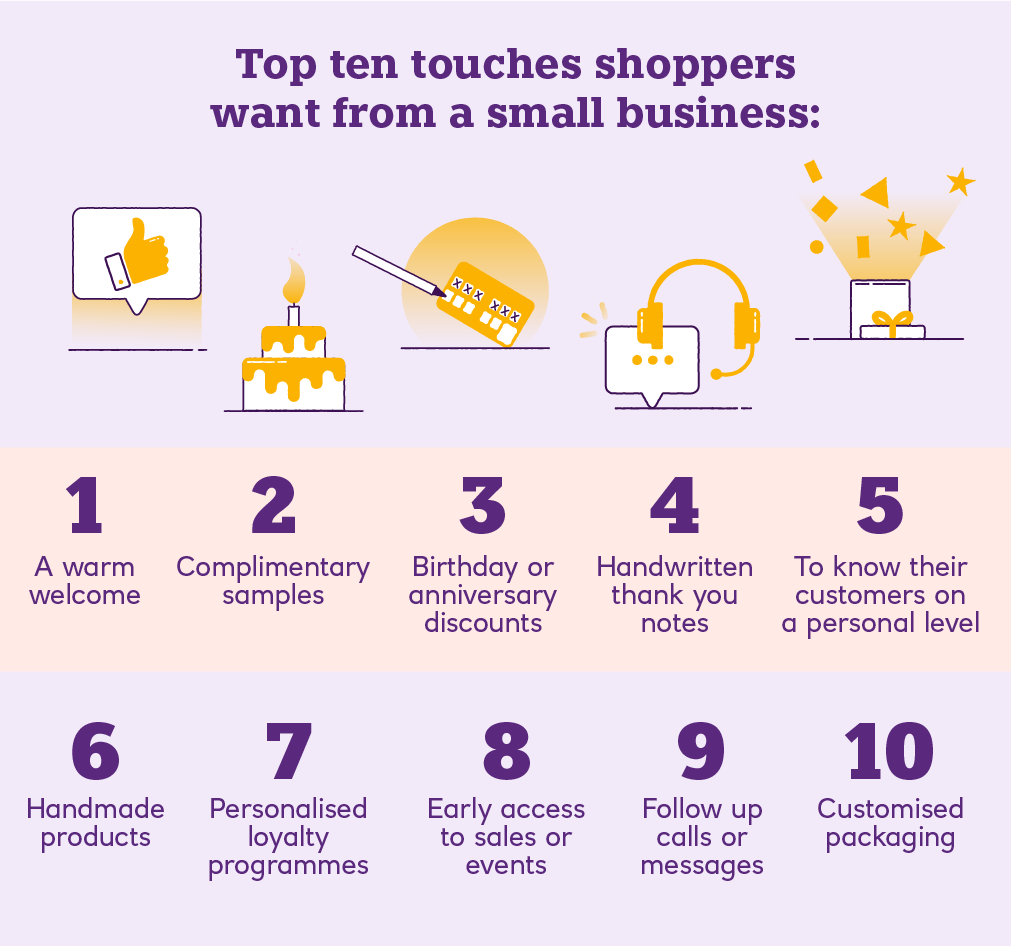 Mike Elliff, CEO at payments provider Tyl by NatWest said: "The cost-of-living crisis has had a significant impact on every aspect of our lives, including how and where people shop. This means businesses need to look after their customers better than ever.
"Prioritising customer satisfaction is not just a good business practice, but an essential lifeline for small business growth and survival.
"Business owners have the power to greatly influence consumers even before they have started physically or digitally looking at products and services to purchase. Considered and personal touches can go a long way to positively position a business well in advance of the point of sale.
"Customer loyalty, trust, and word-of-mouth recommendations become invaluable assets, and the businesses that go above and beyond to meet their customers' needs will not only weather the storm but emerge stronger on the other side.
"In the face of economic uncertainty, fostering meaningful relationships with customers and the community is the key to resilience and long-term success."
Mike Elliff, CEO Tyl by NatWest added: "Shopping at small businesses will keep the heart of a community beating.
"It not only supports the livelihood and dreams of locals but also nurtures unique craftsmanship, fosters personal connections, and ensures that every purchase goes the extra mile."
Alison Edgar, UK business expert and entrepreneur comments: "When the economy is changing, it is easy for people to enter the fight, flight or freeze zone and hide from their problems. But actually, now is the time to make an impact.
"As a small business you have the upper hand of being far more agile than a large organisation, and the ability to bounce back and make and embrace change throughout the business. If you are waiting to start or scale a business, there is no 'right time', it never comes."
Tips for small businesses to grow their business and retain loyal customers
Top tip 1: Try not to focus on things outside of your control, such as the state of the economy or how much people are willing to spend. Instead remain clear on your business goals and how you react to situations, running your business the way you want to run it.
Top tip 2: The four biggest fears that hold us back are change, rejection, failure and uncertainty – which running a business is wrapped up in. You need to be agile, prepared and ready to bounce back at any time, because every day will be uncertain, but the sign of a strong business is being able to adapt to the times. Tools such as the Tyl portal* could help business owners prepare and adapt so you can plan accordingly and stay in control.
Top tip 3: Going above and beyond for your customers can make you stand out in the long run. This can be as simple as getting to know them better so you can welcome them personally, to little extras like offering a coffee with a haircut. In a world where people like to focus on the negatives, find a way to make them leave your businesses with a smile on their face.
*Tyl portal available to Tyl customers. Tyl eligibility criteria and fees apply.
Methodology
A survey conducted Tyl by NatWest and OnePoll of 1,500 UK adults who shop at small businesses has revealed some key consumer trends and the small touches your business can put in place to go the extra mile.
Disclaimer
This has been prepared by Tyl by NatWest for informational purposes only and should not be treated as advice or a recommendation. There may be other considerations relevant to you and your business so you should undertake your own independent research.
Tyl by NatWest makes no representation, warranty, undertaking or assurance (express or implied) with respect to the adequacy, accuracy, completeness, or reasonableness of the information provided.
Tyl by NatWest accepts no liability for any direct, indirect, or consequential losses (in contract, tort or otherwise) arising from the use of the information contained herein. However, this shall not restrict, exclude, or limit any duty or liability to any person under any applicable laws or regulations of any jurisdiction which may not be lawfully disclaimed.