Year of the startup
We all know that the world since 2020 has been challenging to say the least. But beyond the familiar picture of shuttered shops and communities in lockdown, we wanted to tell another story: the remarkable boom in British start-ups.
We've crunched the numbers from publicly available data and discovered that these difficult times have been met by a new wave of entrepreneurial energy.
According to Companies House:
2020 saw the highest number of new start-ups EVER

Start-up launches grew by 30% in 2020 compared to 2019

More than 770,000 new businesses launched – more than double the number created between 2010 and 2017

Online and mail-order businesses increased by 162%

After London, Leicester was the biggest boom town for new business (once we adjusted for population, using World Population Review)
No time like the present
There's no glossing over the fact that many business owners and their staff have had a rough ride over the past year. COVID-19 has put countless industries on pause – from live music and tourism to events and hospitality. Many have lost jobs, millions have been furloughed, and dreams have been dashed. So while we celebrate the extraordinary increase in new businesses, we're mindful that many people have had little alternative but to think outside the box.
From the Companies House numbers below, you can see how the shock of the first lockdown initially put the frighteners on those looking to start a business.
April 2020 had the lowest number of businesses created (just 41,363)
But by July, ambitious entrepreneurs decided to take the plunge – 80,357 new businesses were founded
Apart from April, each month in 2020 saw more than 50,000 new businesses created
Number of new businesses launched in 2020
Source: Companies house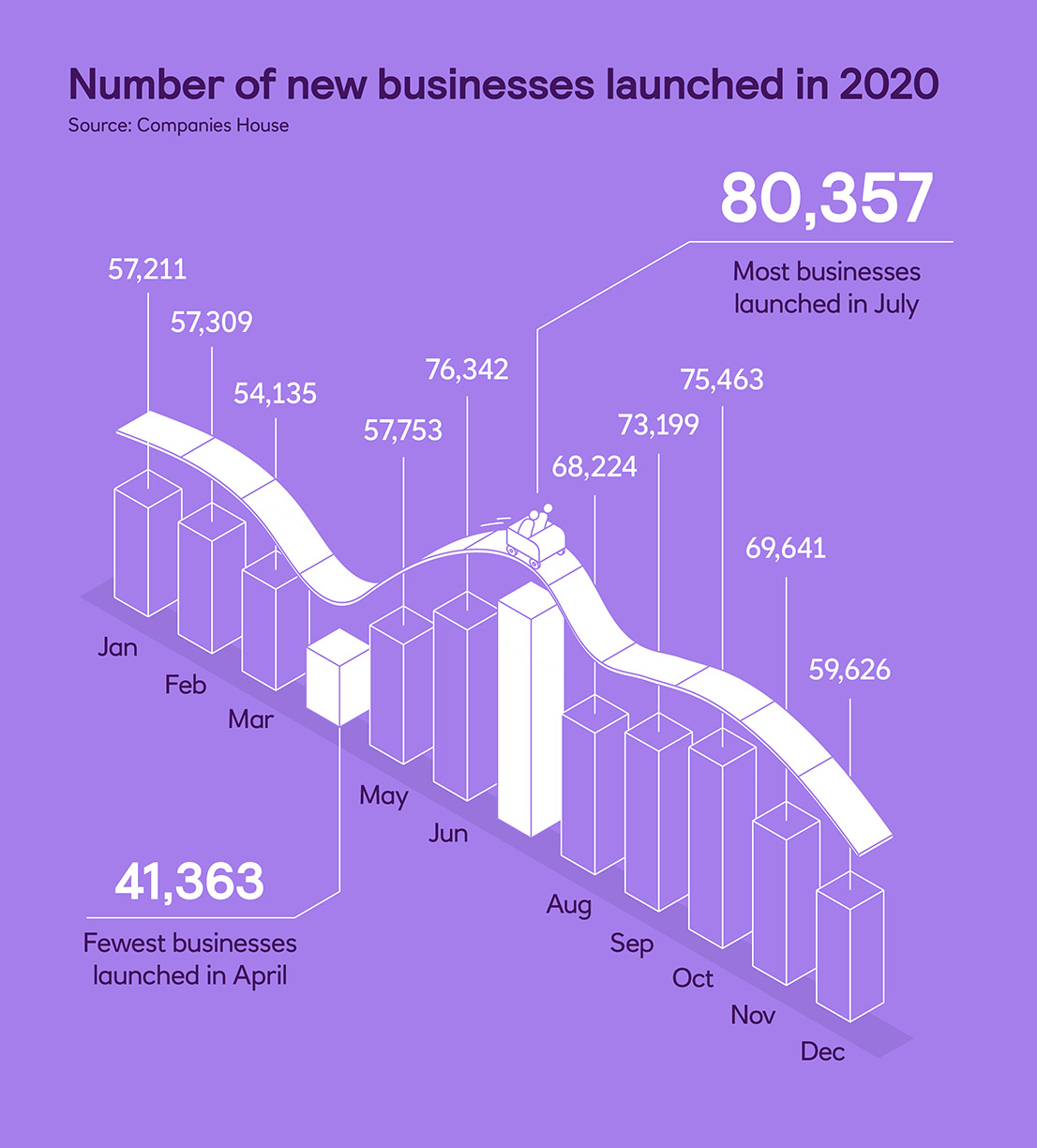 Leicester defies the odds in lockdown
While London led the way in the creation of new businesses in 2020, perhaps the real story was that Leicester ranked second when adjusted for population.
For every 100 people in the East Midlands city, there were 1.68 new enterprises created. The feat is all the more impressive when you consider that Leicester was the first UK city to enter lockdown, and its citizens have spent the longest period living under COVID-19 restrictions
We looked at Companies House data relative to population figures and found:
London roared ahead with the most new enterprises overall, and North London led the way with over a third more new businesses versus South London
After London, Leicester had the highest amount of new businesses relative to population, with wholesale trade the most popular industry for growth
Manchester came in third, with the priority for Mancunians being online and mail order retail businesses
How entrepreneurs got crafty
We've all had to adapt to the upheaval of the last year, but there are countless nimble, quick-thinking business owners – and women entrepreneurs in particular – who've risen to the challenge online. The number of web entrepreneurs who've embraced their artisanal instincts and capitalised on changing demand has told its own story.
Etsy added 1.9 million new sellers to its platform in 2020 – up from 1 million in 2019 (source: Marketplace Pulse)
According to Etsy's 2021 Seller Survey, 81% of these sellers identify as women, and 69% consider their Etsy shop to be a business
Shopify, which lets users host their own online store, processed more transactions in the second quarter of 2020 than eBay
We all know that shopping centres have sadly been gathering tumbleweed this year, but the upsurge in pint-sized business activity online shows that bigger doesn't always mean better. Etsy, the online community where traders can sell their unique and homemade wares, had a total catalogue of 80 million products by the end of 2020 – a 20 million rise from the start of the year.
When looking at the consequences of COVID-19, women's job losses have come in 1.8 times greater than men's (source: BBC). With such a high proportion of Etsy sellers identifying as women, the resourcefulness of these female entrepreneurs turning to online business ventures is a story of resilience and recovery.
Awesome artisans: a profile of Etsy sellers
Source: Etsy 2021 seller survey
Start-ups rise to the occasion
Despite the unprecedented set of challenges in 2020-21, the range of industries where entrepreneurs have had the courage to create new businesses has been astounding.
Based on Companies House data:
There were more online and mail-order retail businesses created than any other sector – 35,608 in 2020 compared to 13,615 in 2019
Buying and selling of real estate was the third most popular source of new businesses created (just behind freight), growing by 40.2% compared to 2019
New takeaway food shops were another success story – a 33.9% increase in 2020 compared with the previous year
In a year of lockdown restrictions and closed stores, online and mail-order businesses have been a saving grace for customers, and digital dreamers have met people's changing needs with dynamic new business ventures.
In the property sector, 2020 saw a 40.2% year-on-year increase in the creation of buying and selling property businesses, while lettings and other real estate businesses grew by 24.4%, perhaps fuelled by increased demand as people itched to move house. And there was boom in architecture and construction – an 18.9% year-on-year rise in the creation of building development businesses.
In food and hospitality, ambitious business owners sharpened their culinary talents and launched 33.9% more takeaway shops and mobile food stand businesses in 2020 than 2019.
Industries that saw the biggest growth for new businesses in 2020
Source: Statista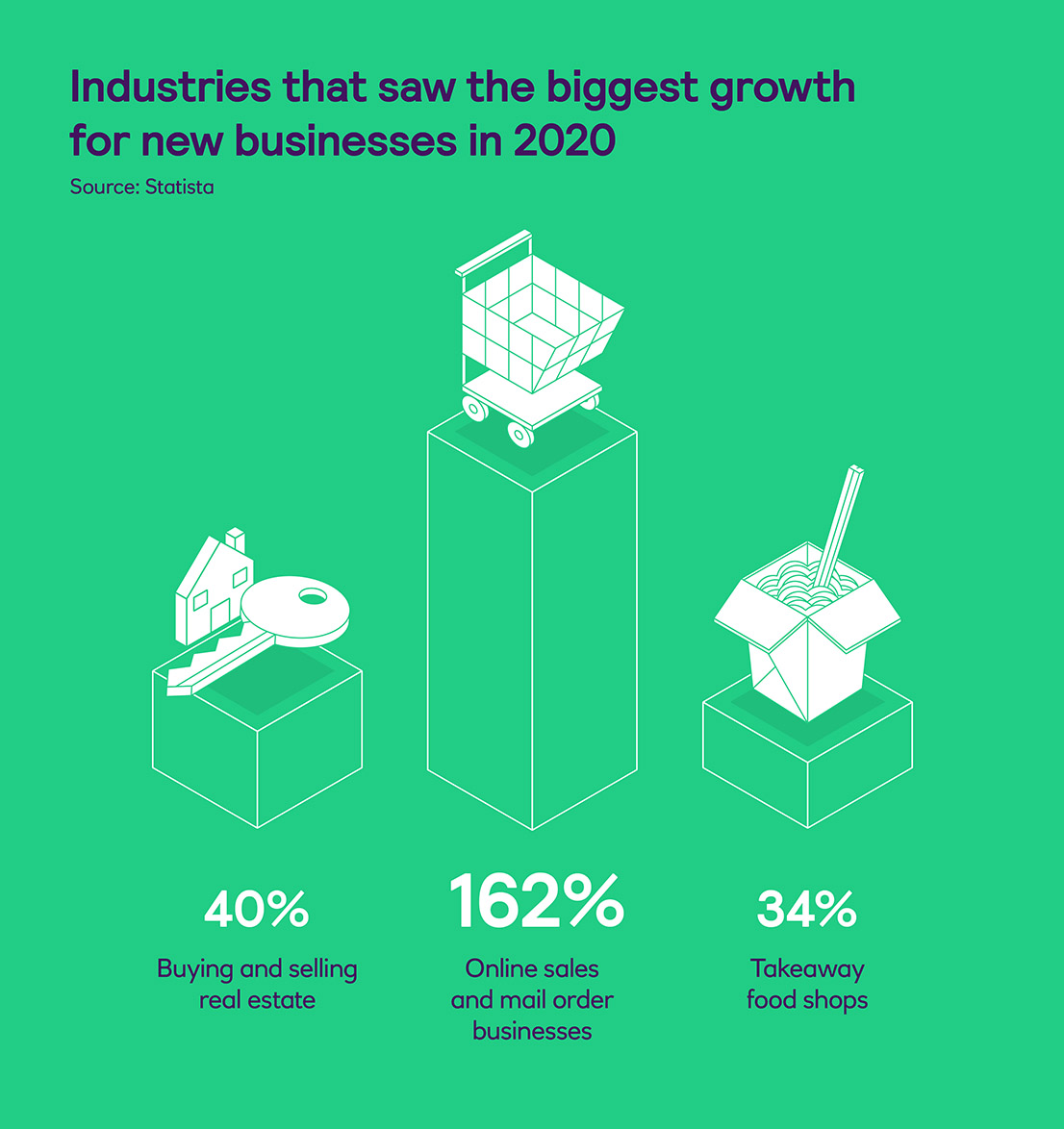 Still have some questions? We're ready to help
How much could you save?
If you fancy getting a bit more bang for your buck, get a no-obligation quote from us and see if you could save on your current rates.
Help and support
Our FAQs provide some useful tips and how-to videos to help you with your account and card machines.
Get in touch
Give us a call or chat to us online. We're open Monday to Saturday 8am to midnight and Sunday 9am to 5pm (bank holidays may vary).