How to take card payments with a card machine
These days, 'cash only' signs are going the way of the dodo. Increasingly, the ability to take payments by card is not only essential for many small businesses, but expected by customers. But how do card machines work, how do you use a chip and PIN machine, and how much do they cost to run? Discover more in our guide to taking card payments as a small business.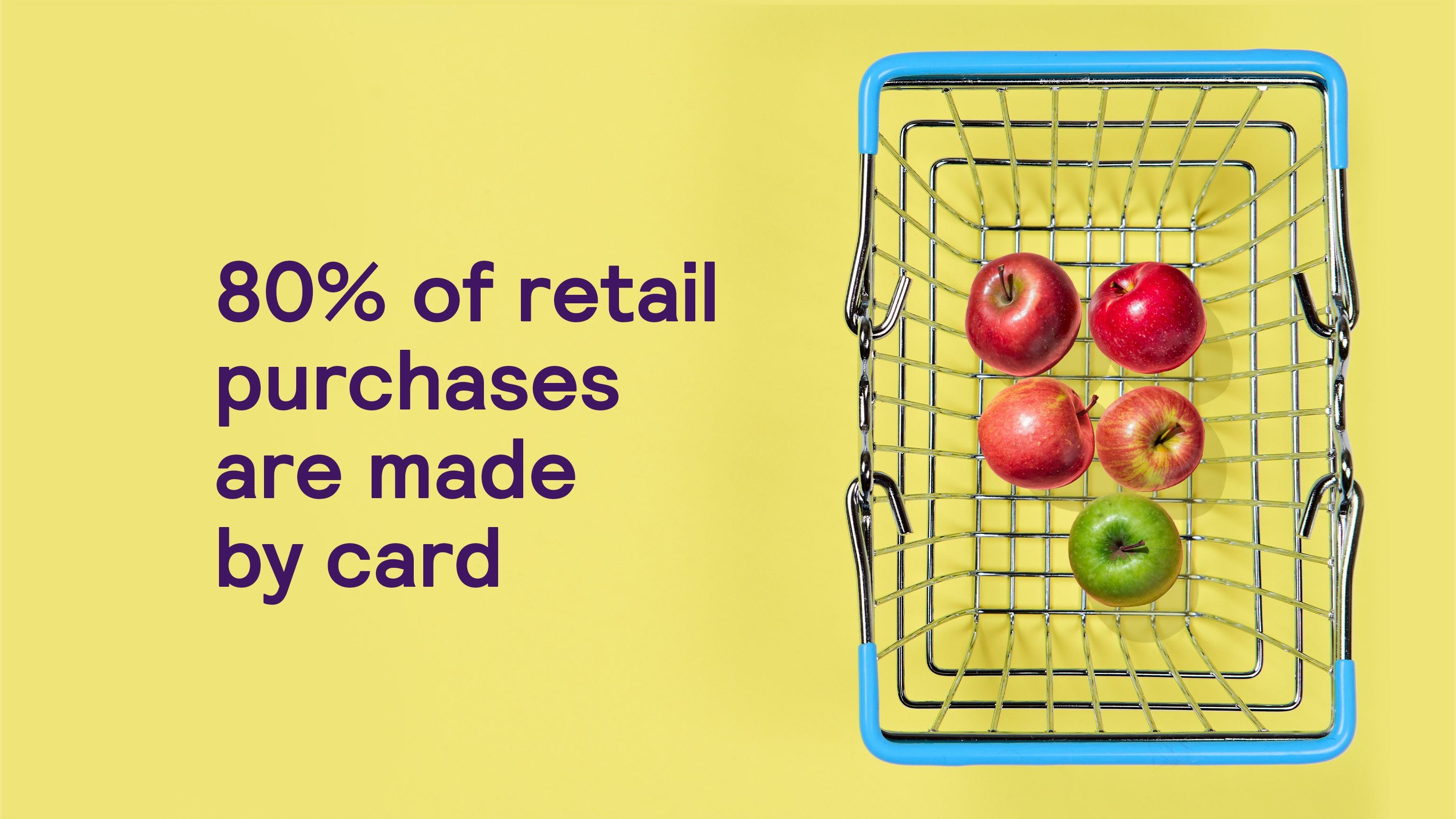 Do I need to take card payments?
If you're a business that doesn't accept card payments, you're officially in the minority. The British Retail Consortium's 2020 Payment Survey found that the number of transactions using a card rose from 54% in 2016 to 61% in 2019. In the retail sector, the figure increases to 80%. So while card machines for small businesses are a good idea in general, the need is more pressing in some sectors than others. Ask yourself, do you have customers visiting in-store, or do you generally take payments over the phone? Do your customers expect to be able to make contactless payments? Either way, virtual payment platforms can have a transformative effect on the way you get paid by your customers.
How do you take card payments?
Regardless of whether you choose a portable or countertop card machine, there's more than one way your customers can part with their cash.
Chip and PIN
The trusty chip and PIN machine was introduced in the UK in 2003 as a way of tackling fraud. The premise is simple: the customer is asked to enter their four-digit PIN code -known only to them - before the payment completes and the merchant receives the money the next working day. But how do you take chip and PIN payments?
Enter the amount you're owed, then press 'enter'. Check the amount is correct; you can always press 'clear' if you've made a mistake.
Ask the customer to insert their card and enter their PIN, then press 'enter'. If they remove the card too early, they'll have to reinsert the card and do it again.
The chip and PIN machine will contact the customer's bank - and yours - to seek authorisation.
You'll receive two receipts - one for you, the merchant, and one for the customer -if the payment has been confirmed. If the transaction has been declined for any reason, a message will appear on-screen.
Give the customer their copy of the receipt and retain your copy for your records. Success!
Contactless
Introduced in 2007, contactless cards are now responsible for more than one in three UK card payments, according to UK Finance. But how do you take payments through a contactless card machine?
As with other types of card payment, you enter the amount you're owed, then press 'enter'. You will now see the contactless logo on the screen.
Ask the customer to tap their card, which should result in a beep and the word 'approved' if successful.
You will then receive a printed receipt. The customer can receive a receipt too if you press 'enter' when the screen displays 'ready'.
Magnetic stripe payments
Dating from the 1960s, magnetic stripe payments are fast going the way of bowler hats and flares. The magnetic stripe contains the cardholder's data, which makes it vulnerable to fraud. Nevertheless, the technology is not yet obsolete, so how do you take magnetic stripe payments?
When you're prompted by the 'ready' screen, enter the amount you're owed, then press 'enter'.
Swipe your customer's card. Make sure the magnetic stripe faces inwards for a successful transaction.
The bank authorises the request if approved, and you can follow the instructions on-screen to complete.
How to do a refund
Whether your customers use chip and PIN or contactless payments on your card machine, knowing how to do a refund is important.
Press the 'menu' option, select 'refund', then press 'enter'.
Enter the amount owed, which can be the full amount or a partial refund. Press 'enter'.
Insert or swipe your customer's card. It must be the same card that was used to buy the product or service.
Enter your supervisor code or swipe your supervisor card to authenticate the refund.
The card machine will then print the receipt after the refund is processed.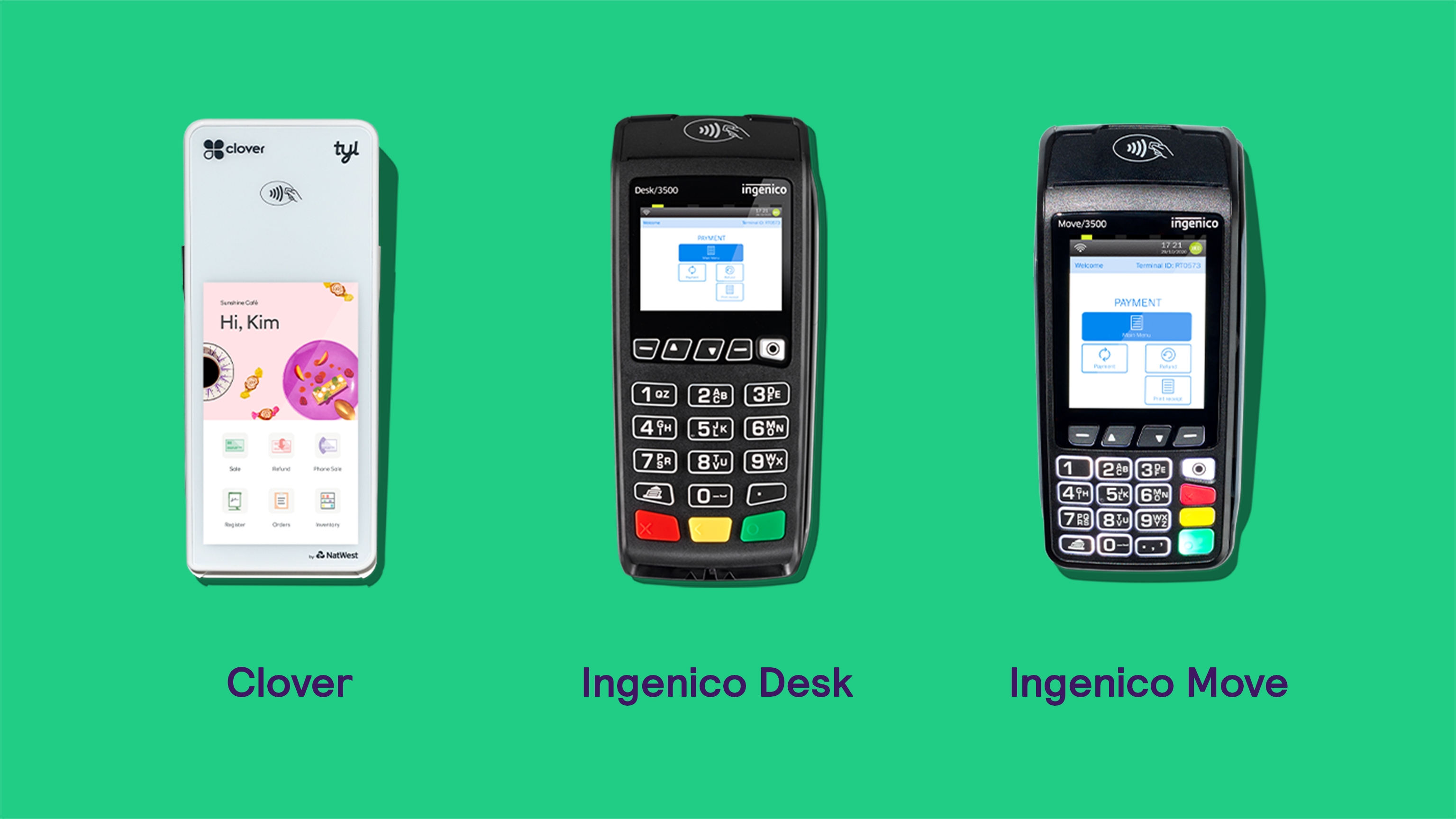 How much are card machines?
The cost of a card machine for a small business depends on which type of device you require. Let's take a quick look at the options available through Tyl by NatWest.
| | | |
| --- | --- | --- |
| Card machine | Summary | Cost |
| | A compact, mobile POS system - a true all-rounder. | £15.99 + VAT per month |
| | A simple, no-frills portable card machine for taking payments on the move. | £21.99 + VAT per month |
| | Ideal if you want your card machine plugged in permanently in one spot. | £13.99 + VAT per month |
When it comes to card machines, it's not just getting paid that matters, but how you manage your money and keep customers happy. Read more about Tyl by NatWest's hassle-free card machines for small businesses (fees apply).